C&K Components Designs Switches into Modules and Assemblies to Meet Customer Requirements
C&K Components Designs Switches into Modules and Assemblies to Meet Customer Requirements
By News Author | February 01, 2013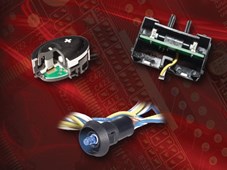 Advanced technical and aesthetic capabilities enable C&K to meet design requirements
C&K Components, a leading global manufacturer of tactile, toggle, rocker and pushbutton switches, and smart card interconnect devices, delivers advanced value-added services including designing and manufacturing modules and assemblies that meet customer-specific application requirements. C&K can quickly and efficiently integrate switches and electronics, from simple to complex circuitry, into attractive and functional packages that assemble neatly into customers' finished products.  C&K also manufactures insert and injection molded parts, stamped parts and lead frames to provide a one-stop-shop for customers.
C&K's engineering expertise enables the refinement of a switch's sound (tunability), feel (haptics), and control (interface) within assemblies and modules to suit customer preferences. C&K offers a wide range of additional customized options including decoration, lighting, connections and sealing.  C&K is skilled at incorporating custom graphics, logos, textures and finishes onto the critical surfaces that are important to the end user.
Lighting options include backlight accenting and light piping to enhance a product's appearance.  C&K also builds stand-alone automotive and transportation lighting fixtures and assemblies.
In addition to offering complete wire harnesses, terminated wires, integrated connectors, and header pins to connect devices to the finished product, C&K uses its expertise to deliver assemblies with advanced, IP-rated sealings for protection from the elements.