Looking Back at the 9th Injectables Summit – and the Future of Medical Device Design
Looking Back at the 9th Injectables Summit – and the Future of Medical Device Design

By Roger Bohannan | November 13, 2019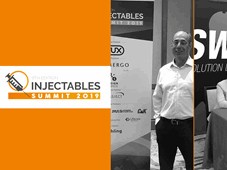 Recently I was fortunate enough to travel with my C&K colleagues Adam Krol and Steve Berube to beautiful San Diego for the 9th Injectables Summit, a global event where medical device professionals – from engineering to development, design to production readiness –  from all over the world converge to share ideas, insight and best practices that shape the future of patient care in our industry.
This year's summit focused on an emerging market – combination pharmaceutical delivery product development – and the challenges and opportunities it presents. The C&K team was incredibly impressed by the lineup of speakers who addressed not only design, fluid dynamics and connectivity issues but also the need to understand and develop best-in-class supplier base for connectivity, data collection and portable power. It addressed the critical need for pharmaceutical companies to gain advanced knowledge in these key areas.
As discussed at the Summit, the medical device industry is in the midst of a connected transformation and smart connected devices are busting onto the market. These market introductions are making the integrity of data collection, detection, tracking and measurement mission critical – not just from a design perspective, but also considering the impact the collected data can have on follow-on patient treatment.
Over the years, C&K has enjoyed the challenge of designing medical solutions that address these demands. We embrace challenges for complex activity detection from portable data collection requirements, supporting intelligent device performance while preserving power and, of course, delivering superior performance in harsh conditions – our legacy of manufacturing excellence. We're proud to say that all of these established expectations are reflected in our solutions and apply directly to the challenges discussed by the presenters.
Event Highlights and Takeaways
The speaker lineup was impressive and featured industry experts from all facets of operations, design and connected strategies. For example, Paul Upham of Roche/Genetech and Daniel Latham of Novartis pinpointed important topics and components around connected devices that my colleagues and I found incredibly valuable.
Paul's expert analysis of industry needs in commercial strategy, development, security and privacy were compelling, while Daniel's synopsis on how pharma can manage new technologies to meet customer needs reminds us all that these new developments will change health care as we know it, with a solid focus on maintaining safety and enhancing patient experience.
The key for manufacturers working with medical device companies is to keep a keen eye on developing innovative solutions to support activity detection. Here are a few types of trackable activities that medical companies are looking to collect in next generation devices:
Cap on / off
Vital signs: BP, Heart Rate, Temperature
Motion Detection, Speed, Frequency, Amount
Vial Present or Absent
Dosage Measurement
RFID
Rx Dispensing Complete
Dispensing Angle Sensing
Dispensing Confirmation
Patient Contact
Successful combination: Contact and Dispensing
Molecule Clarity Sensing
Tracking and Measuring
Power preservation strategies for long supply chains
Besides determining what activities you want collected on your devices, it's important for companies to consider the volume of activities, the importance of the data collected, the space needed to add the functionality, and how the data can be used. All of these considerations will affect the path you take in building this functionality into your device.
How We're Helping to Advance Medical Devices
Market leaders are looking for our best in class innovation, engineering, quality and superior performance for their activity detection demands. Having our highly automated and agile manufacturing capability allows for accelerated development at all phases of production: from immediately available 3D printed parts, form-fit and functional parts, prototype parts, pre-DV, DV to PV parts. From the moment the design is on the 'back of the napkin' to the time it begins production, superior performance, quality and manufacturability are our top priorities. This supports the fastest path to market.
As Summit presenters noted, device manufacturers need to develop best-in-class support for combination delivery development, and C&K excels at providing support to customers looking for solutions to complex engineering challenges – especially when it comes to activity detection or data collection in a connected or smart medical device.
The 9th Injectables Summit was an enlightening experience. It further validated the C&K value to this market, where we have spent decades innovating for medical devices. The future only looks brighter from here, but in order to capitalize on the market opportunity, it has never been more important for product designers and engineers to align with innovative partners. Today's designers are designing the next generation of medical devices that are expected to disrupt an entire industry. C&K can help.
For more information on how C&K can help you powers the latest connected medical devices, contact us.
If you're looking for resources on how to best design solutions for next-gen medical devices, download our whitepaper today.