IATF 16949:2016 – Why it Matters
IATF 16949:2016 – Why it Matters
By Eric Grange | October 08, 2018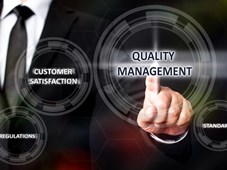 IATF 16949:2016 – Why it Matters
C&K recently announced that its manufacturing location in Dole, France had achieved IATF 16949:2016 certification, with imminent plans for sites in Huizhou, China and Newton, Mass. (USA) to follow. We are very proud of this accomplishment – but what does it mean and, more importantly, why should it matter to the company's customers?    
Why standards are important
The modern car is heavily dependent on advanced technologies to improve safety, driver comfort, performance and efficiency, while also reducing its impact on the environment. "Driverless technologies" such as advanced collision detection systems and adaptive cruise control enhance driver and passenger safety. Advanced engine management systems improve performance and reduce environmental impact, and V2V and V2X communications devices enable vehicles to communicate with the internet, other vehicles, the road infrastructure, other road users and pedestrians. With these and other advances in vehicle technology comes a growing network of OEMs and suppliers, each providing a range of innovative products. In this fast-moving environment, it is imperative that the automotive designer has confidence in the quality, safety and interoperability of the products being sourced. It is also important for car manufacturers to be able to rapidly on-board new suppliers, wherever they may be based, especially with the global nature of car manufacturing.
Standards are critical in this environment, forming the basis for the introduction of new technologies and innovations, and ensuring that products, components and services supplied by different companies are mutually compatible.
What is IATF, and why 16949:2016?
Standards need to be relevant, however, and must keep pace with changes in technology – and, in recognition of this, the IATF was established by a group of automotive manufacturers to ensure safety, quality and consistency of products in the industry. The IATF is closely aligned with the ISO and, in 2016, released the IATF 16949:2016 standard, which defines a quality management system (QMS) providing for continual improvement, with emphasis on defect prevention and the reduction of variation and waste in the supply chain. The standard, combined with applicable customer-specific requirements (CSRs), defines the QMS requirements governing the production of automotive service and/or accessory parts.
As a replacement for the 2009 ISO technical specification, ISO/TS 16949:2009, an aggressive transition timeline was announced to encourage suppliers to achieve certification against this new standard.
What does it mean when a supplier is certified?
In order to gain certification against IATF 16949:2016, a manufacturer must invest heavily in the required QMS processes and systems, and implement a continual improvement culture throughout the organization. This is only possible with full leadership buy-in and support, and organizations achieving IATF 16949:2016 have clearly demonstrated their commitment to safety, quality, continual improvement and sustainability. It is no coincidence that the group of organizations that have achieved this certification include some of the world's leading players in the automotive industry.
What does this mean for C&K's customers?
Already a leading player in the automotive industry, as a supplier of high-quality electro-mechanical switches, C&K has shown its strong and ongoing commitment to quality management by achieving IATF 16949:2016 certification well within the transition timelines. Automotive companies worldwide, which have come to rely upon our high-performance, high-quality switches, can continue to have confidence in C&K's reliability and unmatched custom design capabilities. This certification underlines our status as a world-class automotive supplier and positions us within the elite group of suppliers that are IATF 16949:2016 certified.
Conclusion
C&K has a 30-year track record of successful delivery, and our products embody the core values of automotive switching, with features such as tight product tolerances, haptic-on-demand, acoustical adaptation, environmental and process sealing, and mechanical or electrical interface integration.
This certification demonstrates our continuing commitment to quality and our determination to remain the only choice for switches suited to the harsh environment of the modern vehicle.

Eric Grange
Global Segment Manager
Automotive