C&K Making Strides in Aerospace with AS9100 Certification
C&K Making Strides in Aerospace with AS9100 Certification
By Jérôme Brochot | May 30, 2017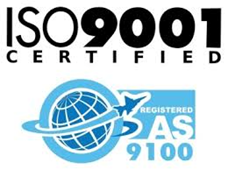 At C&K, providing the highest quality switches and connectors to our customers is the top priority – which is why we've been improving and evolving our products for the past century. As proof of our dedication, we're proud to announce that C&K's Newton location has achieved global AS9100 certification from the Association Française de Normalisation (AFNOR). With our operations in Dole and Serris, France having been compliant since 2008, now C&K's entire manufacturing chain is certified. 
To understand the importance of this certification, let's first look at what it is and a brief history of how it came to be. AS9100 is a widely adopted and standardized quality management standard. This is based on the basic ISO 9001 quality standard, but as aerospace suppliers soon found, this didn't fully address the specific requirements of their customers, including the DoD, NASA, FAA and major commercial aerospace companies such as Boeing, Lockheed Martin, GE Aircraft Engines and more. 
To amend this, major American aerospace manufacturers combined their efforts to create a single, unified quality standard, based on ISO 9001, resulting in AS9000. Recognizing that a global standard was needed, 55 aerospace industry-specific requirements were added and the AS9100 standard was born. Today, many companies even require that suppliers are AS9100 certified. 
In fact, according to Aerospace Manufacturing & Design, companies achieving certification report a host of benefits including: 
Improved product quality and on-time delivery
More efficient labor utilization
Increased customer satisfaction in supplier-customer relationships
Alignment with the International Aerospace Quality Group (IAQG) strategy of having 90% of supply chain certified 
This certification is a significant achievement for C&K, not only because of validation and competitive advantage it provides, but because it streamlines the purchasing process and makes our unmatched product design expertise available to our aerospace customers worldwide. Additionally, we can now receive orders directly from customers from anywhere instead of through a distributor, like Arrow or TTI. This empowers product designers to choose whether they'd like to take advantage of C&K's bench of highly experienced engineering experts and enhanced manufacturing capabilities, or if they'd prefer to work alongside a distribution partner. 
To learn more about our line of high reliability connectors for the aerospace industry, visit http://www.ckswitches.com/products/high-rel/.