Value Added Services
Modules and Switch Assemblies
At C&K, we pride ourselves on being able to match your design needs with the perfect switch for the job – every time. 
We produce thirteen basic switch types, including snap-acting, tactile, pushbutton, slide and detect switches ranging from low current to high voltage. With more than 55,000 standard products and 8.5 million possible switch combinations, C&K is dedicated to providing reliable, cost-effective and high-quality electromechanical switches to product designers across the globe. 
But not every innovative project can be completed with a standard switch. Sometimes custom work needs to be done to develop a module or switch assembly in the way that's just right for your specific design. C&K has built an extensive industry and application knowledge base which allows us to lean upon our massive catalog of existing switches and legacy of engineering success to solve even the most difficult design challenges and bring your innovation to life. 
We are experts at integrating our switches into attractive and functional packages that assemble neatly and rapidly into your finished products. Our devices include the decoration, lighting, supplemental electronics and connections you specify – and we work with you to refine the feel and control of the product to suit your preferences.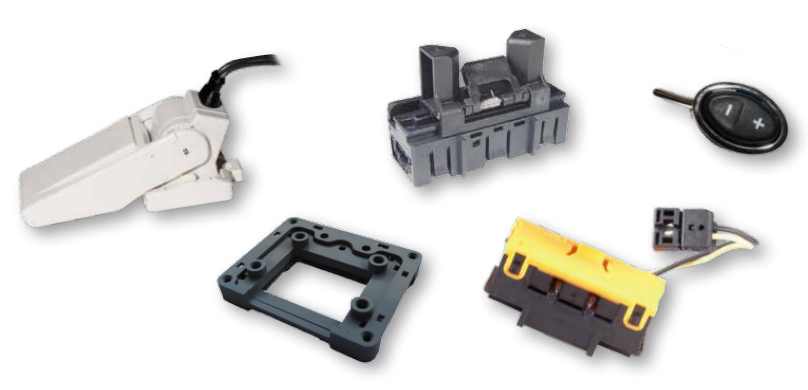 Engineering Capabilities
Our process starts by listening to our customers and the challenges they face integrating C&K switch products into their end products. Our trained engineering teams work closely with customer product design teams to integrate our switch knowledge into cost-effective solutions.
C&K maintains regional design centers in Newton, Mass. (US), Dole, France, and Huizhou, China to service your needs. We also offer extensive and quick-turn prototype services.
Our analytical tools include: 3-D CAD modeling, mold flow analysis, FEA, dynamic motion analysis, high speed photography, fixed and dynamic X-ray, thermal imaging, SEM / FTIR, sound chamber and force/displacement testing.
Module and Assembly Expertise
C&K has design expertise in the following key areas: 
Multi-function, Multi-Axis Switching
If your application calls for multiple switching functions, C&K will integrate our variety of switches into a single, innovative and logical assembly for you. We are experts at integrating our switches and your electronics into efficient and compact modules that will enhance the end-user experience. 
Integrating Switches and Electronics
C&K is skilled at incorporating custom graphics, logos, textures and finishes onto the critical surfaces that are important to the end-user. We use two-shot molding, paint and laser etch, pad printing and plating to make those surfaces stand out. 
Decorative Solutions
C&K will package your circuitry and our switches, from simple to complex, into an assembly.
Feel and Sound
At C&K we specialize in providing the precise feel and haptics that meet your requirements, including sound tunable tactile switch products. 
Lighting
C&K has extensive experience with backlight accenting and light piping to enhance your product appearance. We also build stand-alone automotive and transportation lighting fixtures and assemblies – including in-house molding of the critical lens component. 
Component Fabrication
We have extensive in-house component capabilities, manufacturing our own insert and injection molded parts, stamped parts and lead frames. 
Connections
C&K provides complete wire harnesses, terminated wires, integrated connectors, or header pins to connect our devices to your finished product. Our capabilities include automatic solder and crimping attachments, as well as testing to ensure the highest level of quality. 
Sealing
Our experience in developing and manufacturing sealed switches can help you seal your assembly from the elements.