KSC Series Explanation Guide
KSC Series Explanation Guide
KSC Series Tactile Switches
The KSC Series tactile switch offers important customization options to meet most application requirements. For more than 15 years, C&K has improved performance, quality and expanded product options and variations for the KSC family. The KSC Series is more than a product series with defined characteristics, it is a system where configurations can be combined to deliver a complete switch solution. Actuators, domes, and housings can be mixed in order to obtain the right dimension, haptics and resistance to meet environmental requirements. By offering the right mix, the KSC Series can match specific customer requirements in terms of haptics and durability.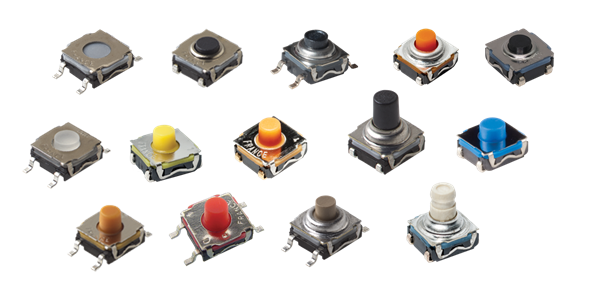 Flexibility for possibilities
Domes are considered the heart of a tactile switch. It gives the necessary force for actuation, up to 6.5N and haptic feedback. C&K is able to offer various force and tactile configurations based on more than 20 dome types. Quality designs and manufacturing processes also deliver a long operating life. From standard operating life rating of 300K cycles, up to long life cycles of 5 000K, the KSC Series is able to withstand the toughest operating conditions.
Actuator is not only adjusting the switch height, but has a major contribution for the tactile effect. C&K offers several different actuator types to match various tactile feeling and acoustic responses. Various materials and heights are used to match all possible customer requirements.
Housing is integrating all the electrical functions necessary for a tactile switch. Silver plated versions are the most common and can carry a few micro amperes, while gold versions offer the highest resistance against corrosion. The fine overmolding offers the highest sealing rating in the market with IP67 minimum*. Providing even more design flexibility, the KSC Series can be either top or side actuated.
The switch assembly leads to the final result based on the components choice. To ensure performance and quality, C&K tests every switch in production according to force/travel features. Switch tolerances are also predicted by making and testing switches with domes at their tolerances edges. This process control, from design to manufacturing leads to predictable behavior.
Typical applications

Automotive: For the interior of a vehicle, C&K tunes the KSC Series switch's haptic and acoustic response to perfectly fit any OEM requirements. The flexibility of integration, the precise tolerance, the robustness, and the variety of haptic makes the KSC Series an ideal switch for interior controls. In addition, the KSC Series switch's IP67-rating and durability make the switch well suited for use on and outside the vehicle body, such as door handles, trunk opener and various mechatronics applications. 

Industrial: Rugged sealing and resistance against corrosive agents make the KSC Series the perfect fit for applications subjected to harsh environments. Durability is proven for applications, such as lift buttons, where ultra-long life up to 5 million cycles is critical. The importance of IP67 sealing is highlighted by applications such as industrial sensors. Fire alarm detectors are now integrating KSC Series switches for their anti-corrosive traits and long operating life. Detect versions are also used in anti-tampering applications.

Medical: Advanced medical systems are requiring high reliability for switching functions. Due to high sealing, reliability and testing, KSC Series switches can perform several functions for various medical systems. Steam cleaning resistance and excellent tactile feedback make the KSC Series a unique solution for surgery tools.

Aircraft: High reliability is required in the aircraft industry. KSC Series switches are used for pilot control units where specific haptic and long life are required. Such performance is offered on different heights to be easily integrated inside any unit.
Below are examples of KSC series used in different applications. These lists are non exhaustive.