PTS645V SMT Now With IP67 Sealing
PTS645V SMT Now With IP67 Sealing
By News Author | September 22, 2022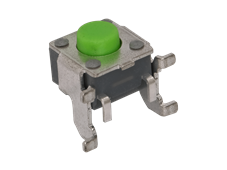 C&K Now Offers PTS645V Series with IP67 Sealing
C&K, now a part of Littelfuse Inc. and a leading manufacturer of high-quality electromechanical switches, has extended its PTS645V tactile switch series to include an IP67-rated version. The high-performance PTS645V waterproof switch can withstand harsh environmental conditions found in a wide-range of indoor and outdoor applications.
The PTS645V series side-actuated switch is commonly used in high-end consumer electronics and industrial applications that require a rugged momentary action switch. From power tools to instrumentation, smart meters and smart home control panels to communication networks, and from home security to factory automation systems, the IP67 tactile switch is versatile and can be customized to application needs.
Offering design flexibility, the low-profile SMT switch is available in two heights (1.3mm and 1.9mm) and four different actuation forces (100gf, 160gf, 260gf and 320gf) to meet application demands.  
"We are excited to extend our popular PTS645V SMT series to include an IP67 version," said Daisy Liu, Global Product Manager at C&K. "By offering an IP67 version, we can support more products that require a side mount switch across markets and satisfy market needs for switches that can operate in varying environments reliably."
For more information on C&K's sealed SMT PTS645V switch series, including details and specifications, click below: 
About C&K
C&K is now a part of Littelfuse, Inc.  At C&K, we do more than just make the world's best switches. We are trusted advisors, helping global brands and innovators improve customer satisfaction by building better products. C&K offers more than 55,000 standard products, 8.5 million switch combinations, as well as custom designed solutions, to help solve the hardest engineering challenges faced in the automotive, industrial, IoT, wearables, medical, telecom, consumer products, aerospace and POS terminal industries. For over 90 years, leading designers, manufacturers and distributors of electronics have turned to C&K when they require mission-critical reliability in an electromechanical switch, high-rel connector or custom assembly. The reason they keep coming back is because C&K's innovative design, cutting-edge production process, and strict quality assurance standards produce the world's best switches and components.  For more information, please visit www.ckswitches.com or connect with us on LinkedIn and Twitter.