SDS Ultra-Low Current Extension
SDS Ultra-Low Current Extension
By News Author | July 29, 2022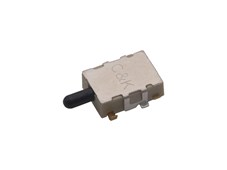 C&K expands SDS Series with Ultra Low Current option
C&K, a leading manufacturer of high-quality electromechanical switches, has extended its detect product family to include a new ultra-low current variant. The SDS Ultra-low Current detect switch was developed to limit power consumption on battery powered devices.  With more and more devices being operated by battery, designers are looking to solutions that consume as little energy as possible to prolong battery life.
SDS series is available with different contact arrangements, normally open, normally close, silver and gold plating for better resistance of the corrosion. The ultra-low current (10µA@1.8VDC) option enriches the catalogue options well in the related application of medical & IoT devices, smart metering, smoke detector and Networking. 
For applications like medical and IoT devices this product has been tested and proven to reduce battery consumption.  Offering a ultra-low profile switch with low battery consumption makes the SDS ideal for handheld devices.
C&K offers the SDS with overtravel plunger actuator which allows for 2mm of overtravel. "With the growing production of devices using battery power, we have developed an ultra-low current switch to fit market needs" explained Cedric Garropin, Product Manager at C&K. "By reducing necessary current to operate this switch, battery consumption triggered by an actuation is heavily reduced compared to other switches."
The entire line of SDS Series detect switches feature a SPST design, 50,000 cycles, 75gf actuation force, and right angle termination. The switches' low 2mm PCB-mounted profile makes them ideal for designs with limited space above the PCB.
For more information on C&K's new SDS series detect switches, including details and specifications, click below: 
About C&K
Now part of Littelfuse, Inc. At C&K, we do more than just make the world's best switches. We are trusted advisors, helping global brands and innovators improve customer satisfaction by building better products. C&K offers more than 55,000 standard products, 8.5 million switch combinations, as well as custom designed solutions, to help solve the hardest engineering challenges faced in the automotive, industrial, IoT, wearables, medical, telecom, consumer products, aerospace and POS terminal industries. For over 90 years, leading designers, manufacturers and distributors of electronics have turned to C&K when they require mission-critical reliability in an electromechanical switch, high-rel connector or custom assembly. The reason they keep coming back is because C&K's innovative design, cutting-edge production process, and strict quality assurance standards produce the world's best switches and components.  For more information, please visit www.ckswitches.com or connect with us on LinkedIn and Twitter.