C&K wins Product of the Year for Third Year in a Row
C&K Wins Product of the Year for Third Year in a row
C&K wins Product of the Year for Third Year in a Row
By News Author | January 31, 2022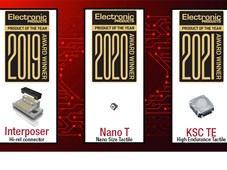 C&K, a leading manufacturer of high-quality electromechanical switches has won the Electronic Products Electromechanical Product of the Year(POY) award for the third year in a row.  The C&K Product and Engineering teams work around the clock to create innovative products that support current and future market needs.
Innovation and Quality are top priorities for C&K, and it has not gone unnoticed.  Electronic Products is a leader in publishing of Electronics and Manufacturing content, and it is a honor to receive the POY award for the third consecutive year.   
In 2021, our KSC TE Miniature Tactile Switch won the POY award. The KSC TE is known as the "Tireless Endurance" variant of the KSC product series. With up to 10 million actuations, the TE is ideal for high traffic applications like gaming controllers, elevators, and industrial equipment. The TE is contained in a small 6.3mm x 6.2mm package and is available in three different actuation forces, 1.6N, 2.8N & 4N.
Learn more about KSC TE here: https://www.ckswitches.com/products/switches/product-details/Tactile/KSC%20TE/
2020 POY Winner: Nano T Nano sized Tactile Switch – https://www.ckswitches.com/products/switches/product-details/Tactile/NanoT/
2019 POY Winner: Interposer Hi-Rel Connector – https://www.ckswitches.com/products/high-rel/product-details/Interposer/Interposer/
Electronic Products Press Release: Electronic Products Product of the Year Award Winner