RK Series Microminiature Tactile Switches
C&K's Low Profile and Microminiature SMT Top Tactile Switch Design Will Integrate Into your product to meet the need of compact design
C&K's Low Profile and Microminiature SMT Top Tactile Switch Design Will Integrate Into your product to meet the need of compact design
By News Author | March 25, 2021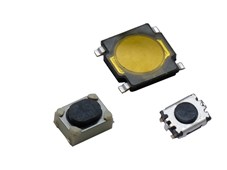 Designed to meet the demand for key fob in the automotive and medical markets, C&K's newly redesigned RK series has been launched to meet current and future market needs.
C&K is proud to reintroduce the RK series of tactile switches with new and improved actuation forces and a variety of sizes to fit your specific application.  RKA2 is a low profile switch that is perfect for applications where height is a large consideration and is available with four different actuation forces.  RKB2 is a switch that is the most robust in the lineup of the RK series which offers three actuation forces.  For applications where space is limited, the RKC switch has been created which is the smallest overall switch in the lineup with an operating force of 450gf. 
Now with three different designs and six choice of actuation forces (160gf, 180gf, 250gf, 400gf, 450gf, and 540gf), the RK series gives design engineers the opportunity to pick and choose the right operating force for your application.  Offering reliable and long term operation from 50k to 500k cycles (depending on model) for meeting various design and operating forces in the market, the RK series has something to offer for everyone.  The RK switch lineup is ideal for applications such as key fobs, navigation systems, medical devices, health monitoring systems and many more.
"The RK series allows consumers to feel performance and quality in every touch, giving brands confidence that their products are in line with the market needs of compact design, and the high quality and brand experience they are known for."  Said Daisy Liu, Global Product Manager at C&K, "the various sizes available in the RK series allows our switches to be integrated into various design preferences in the market."
With up to 500k cycles of reliability, there is less need for replacement and potential costly maintenance in the long term which are associated with shorter life cycle switches.  Put your consumers mind at ease with these long lasting switches which will continue to perform for many years to come.
For more information on C&K's new RK series of switches, including details and specifications, please visit: https://www.ckswitches.com/products/switches/product-details/Tactile/RK/