C&K's New Sealed Tactile Switch - EL Series
C&K's New Sealed Tactile Switch - EL Series
By News Author | August 04, 2021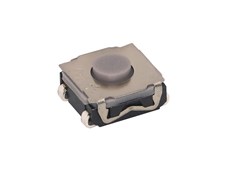 C&K Launches EL Sealed Tactile Switch as a high volume, competitive price solution for your tactile needs.
The EL Series sealed tactile switches are the perfect solution for a wide range of applications, at a competitive price.
C&K, a leading manufacturer of high-quality electromechanical switches, has developed a versatile sealed tactile switch suited for a wide variety of consumer, industrial, IoT and portable electronic applications that require long operational life at a cost-effective price point. The EL tactile switch series combines common heights and actuation forces with a longer lifecycle than competitors at 200,000 cycles. An IP67 rating for protection against dust and water ingress make the EL Series suitable for applications that experience harsher conditions.
The EL Series is designed to a standard market size of 6.2mm x 6.2mm with heights of 3.5 mm and 5.2 mm, making the switch a 100% pin-to-pin replacement for competing tactile switches.
Currently available in 4 configurations, designers can choose from two actuation forces of 2N and 3.5N. The soft actuator allows for easier integration through pre/post travel. By offering much longer lifecycles, the EL Series helps ease the design cycle and outperforms the competition for its size and force range.
Given its small form factor, the EL Series tact switch is commonly used in consumer and IoT goods including smart meters, smart home appliances/devices and portable electronics. In addition to the consumer market, the EL Series is ideal for harsh environments including industrial electronics and portable medical devices.
"The EL Series is a fantastic addition to the C&K tactile switch portfolio that satisfies basic tactile switch requirements and IP67 sealing at a competitive price. The compact EL series Tactile Switch allows for the designer to have flexibility to design the switch into standard and harsh applications," said Regis Clement, Global Product Manager at C&K. "Creating quality, cost friendly switches isn't always easy, but when it is done right, it's hard to be matched."
For more information on C&K's new EL series tactile switches, including details and specifications, click below: 
About C&K
At C&K, we do more than just make the world's best switches. We are trusted advisors, helping global brands and innovators improve customer satisfaction by building better products. C&K offers more than 55,000 standard products, 8.5 million switch combinations, as well as custom designed solutions, to help solve the hardest engineering challenges faced in the automotive, industrial, IoT, wearables, medical, telecom, consumer products, aerospace and POS terminal industries. For over 90 years, leading designers, manufacturers and distributors of electronics have turned to C&K when they require mission-critical reliability in an electromechanical switch, high-rel connector or custom assembly. The reason they keep coming back is because C&K's innovative design, cutting-edge production process, and strict quality assurance standards produce the world's best switches and components.  For more information, please visit www.ckswitches.com or connect with us on LinkedIn and Twitter.