C&K KMR6 & KMR7 Tactile Switches
C&K Announces New KMR6 & KMR7 Waterproof Tact Switches for Harsh Environments
C&K Announces New KMR6 & KMR7 Waterproof Tact Switches for Harsh Environments
By News Author | June 26, 2017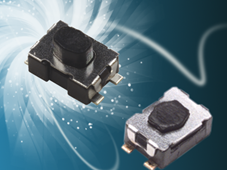 C&K, one of the world's most trusted brands of high-quality electromechanical switches, today announced a new series of tact switches designed to help engineers working on consumer, automotive, industrial and medical products that will need to dependably operate under the harshest of conditions. 
C&K's KMR6 and KMR7 no ground pin (NG) switches were built specifically to be waterproof, reliable and resistant to vibrations, making them perfect for innovative products such as personal health monitoring systems (as they're resistant to typical cleaning chemicals) or even car door handles (as they protect against weather conditions). 
C&K's KMR6 and KMR7 NG switches are compact (2.8 mm x 4.2 mm), available in two heights (1.9 mm for the KMR6 and 2.5 mm for the KMR7) and are IP67 watertight sealed. In addition, the switches come with Gullwing termination, travel of 0.2 to 0.35 mm with a soft actuator and are available in four actuation forces, ranging from 1.2 N to 4 N. 
"Consumers expect products to work every time they use them – and if the switch is low quality and quickly fails, then no amount of repair work or customer service can fix the perception of your product or your brand," said Jerome Smolinski, Global Product Manager at C&K. "Our KMR series provides developers with compact, robust and waterproof switches that are perfect for new, innovative designs which have to be sturdy enough to survive both regular use – and regular exposure to the elements." 
C&K's new KMR6 and KMR7 tact switches are available now. For more information, please click on the following links: KMR6, KMR7.
Product Details Page | KMR6, KMR7