C&K Adds Economical Version to the SS Miniature Slide Series
C&K Adds Economical Version to the SS Miniature Slide Series
C&K Adds Economical Version to the SS Miniature Slide Series
By News Author | July 11, 2016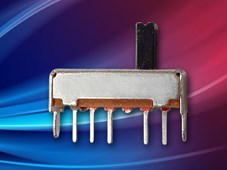 The new economical version is ideal for consumer and telecommunication products
C&K has added a new economical option to its SS series of miniature slide switches. The SS series is one of the key miniature products in the slide switch product line and carries a broad range of products with various circuit designs from SPDT to 4P3T, travel lengths from 2mm to 4mm and different length & shapes of vertical actuators. The changeover timing can be specified as shorting or non-shorting. Rated for 0.3A at 6VDC or 30VDC, the switches are available with typical operating force of 200 gf and an operating life 5,000 cycles with load.
The new switch extends the SS series' proven features, including compact size and reliability, to applications including consumer electronics and telecommunication applications. "The new, economical version SS-14D0839-VG 5 PA switch is ideal for a wide range of consumer and telecommunication products," said Norman U, Global Product Manager at C&K.
SS-14D0839-VG 5 PA is available in SP4T configuration, 2mm travel and 14.6mm x 4.3mm compact size. It has an operating life of 10,000 cycles (without load), 5,000 cycles (with load) and features an operating force of 200gf. The series has an operating temperature range spanning -20°C to +70°C.