Robust 4-way Adjustable Direction Switch Simplifies Assembly with Customizable Wire Harness and Connector
Robust 4-way Adjustable Direction Switch Simplifies Assembly with Customizable Wire Harness and Connector
By News Author | May 27, 2013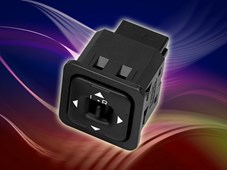 CS-41001E Series switch designed for mirror control in automotive and industrial applications
C&K Components, a leading international supplier of tactile, toggle, rocker and pushbutton switches, and smart card interconnect devices, has developed a new series of 4-way adjustable direction switches for automotive and industrial mirror control applications. The CS-41001E Series features customizable wire harnesses and connectors to ease the assembly process. The rugged 4-way switch has brass or tin-plated terminals that provide a long operating life span of 10,000 cycles minimum.
"Many 4-way switches are prone to failure due to environmental conditions or wear-and-tear from excessive operator push forces.  The rugged CS-41001E Series switches are designed with a high-operating force to take user abuse and provide long life cycles, making it an ideal choice for vehicles and harsh industry settings," said Calvin Ma, C&K product manager.  "In addition, customers can take advantage of the switch's customization options, as well as C&K's module and assembly manufacturing capabilities that can reduce the number of vendors and lower overall costs, while exceeding performance requirements."
C&K's engineering expertise enables the refinement of the CS-41001E Series 4-way adjustable direction switch's sound (tunability), feel (haptics), and control (interface) to suit customer preferences.  C&K is skilled at incorporating custom graphics, logos, textures and finishes onto the critical surfaces that are important to the end user. Using two-shot molding, paint and laser etch, pad printing, and plating, the decorative solutions are designed to standout.
Featuring a wide operating temperature range of -40ºC to +90ºC, the 4-way CS-41001E Series has a contact rating of 0.2 A @ 12 VDC, and a dielectric strength of 500 V AC. Operating forces range from L-OFF, R-OFF of 200 +/- 100 gf; OFF-L, OFF-R of 400 +/- 200 gf; and a 4 direction of 500 +/- 200 gf. The CS-41001-E comes in 256-piece packaging.
Attached File | CS datasheet - PDF (149.49 Kb)