C&K's Rugged Rocker Switches Deliver Extended Operating Life Cycles
C&K's Rugged Rocker Switches Deliver Extended Operating Life Cycles
By News Author | July 22, 2013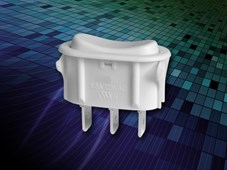 Heavy-duty rocker switches rated to 16A in multiple design versions
C&K Components, a global manufacturer of pushbutton, tactile, toggle and rocker switches, as well as smart card interconnect devices, has developed a heavy-duty rocker switch that features an extended operating life beyond 6,000 cycles.  Available in a wide variety of designs, the SW Series rocker switches are rated up to 16A and offered in single pole single throw (SPST), single pole double throw (SPDT) and double pole single throw (DPST) versions.
The SW Series rocker switch meets a wide range of application requirements including household appliances, industrial equipment, audio & visual equipment, telecommunication, and office equipment.
"Our expanded offering of reliable rocker switches meets the requirements for rugged applications that experience harsh conditions throughout their operational life.  The robust SW Series rocker switches are available in multiple designs and configurations to provide more design flexibility for engineers," said Calvin Ma, Product Manager.
The RoHS-compliant, SW Series rocker switches have a contact rating of 6.5A at 125VAC, and meet UL 94V-2 standards.  With an operating temperature range of  0°C to 85°C, the SW Series switches feature a contact resistance of 100m ohms, insulation resistance of 100M ohms, and dielectric strength of 1,500VAC.
Attached File | SW datasheet - PDF (325.68 Kb)