C&K Launches New High Operating Life Cycle SDB DIP Switches With Low Profiles to Save Space on PCB layouts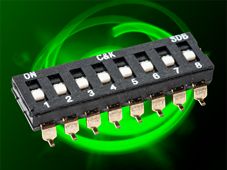 C&K, one of the world's most trusted brands of high-quality electromechanical switches, today announced the launch of its new SDB DIP switches. The new DIP switch provides product designers with a cost-effective solution for applications that require a low-profile switch for space savings on PCB layouts. The SDB DIP switch has a high operating life cycle under load and comes in thru-hole or surface mount models with additional tape and reel packaging available.
The SDB DIP switch joins C&K's expansive family of DIP switches that includes surface mount half-pitch DIP switches, low-profile and standard-profile DIP switches, rotary and coded DIP switches, SIP switches and jumper switches with a variety of extended actuator and flush actuator styles. The company's new SDB DIP switch is an excellent selection for a wide variety of applications, including automation and control devices, servers, modems, routers, headsets, ATMs and POS machines.
"We pride ourselves with offering global brands switches as we need to stay ahead of the market and competition," said Jeffrey Phan, Global Product Manager, C&K. "Our latest SDB DIP switch provides a best-in-class quality, cost-effective, low-profile switch option for designers and engineers operating on a budget."
For more information on C&K's new SDB DIP switch, including details and specifications, click here: https://www.ckswitches.com/products/switches/product-details/DIP/SDB/.